| Chain Mail | Era: 560 |
| --- | --- |
| Pickup Type: | Armor |
| Armor Added: | 125 |
| Armor Attribute: | Absorbs 1/3rd of each attack |
| Pickup: | |
Chain Mail is an armor pickup in era 560. It provides the player with 125 Armor points, and its armor attribute makes it absorb 1/3rd of each incoming attack's damage.
The Chain Mail is the sub-optimal armor available in 560, the superior version being the Black Adamant, granting more armor points and the better armor attribute, absorbing more damage than the Chain Mail's.
Pre-Alpha
Edit
The Chain Mail in the Pre-Alpha had the same armor value and the same armor attribute, but however did use a different model.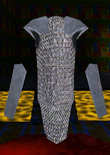 As opposed to most of the final games armor, which is a usually just a chest piece with various ornaments in one way or another, the Chain Mail was a large model with shoulders, sleeves, extending past the waist.
The Chain Mail in the Pre-Alpha was actually chainmail - as opposed to the final game's Chain Mail, which appears as an ornate chest piece with a skull and various designs, and golden or copper shoulder pads, and lacks actual chainmail.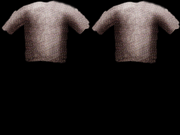 There was also a different texture for the Chain Mail in the Pre-Alpha, dating before the Pre-Alpha's modelled Chain Mail. The texture appears to fit in with the consistent theme of the armors being chest pieces of armor rather than a whole suit or armor.