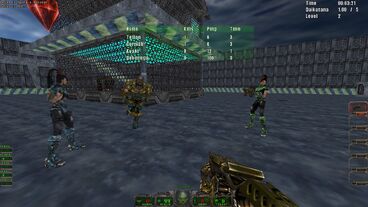 Daikatana's community is a very important aspect of the game. Whether its skilled deathmatchers, community contributors, old clans, or just regular players, these people and groups have kept the game alive and thriving.
Notable communtity members
Edit
DI-MeisterM - Runs Daikatananews, along with providing a lot of help and content. Also creates maps and helps with community patches.
DI-Mammut - Created community maps and content.
Dekonega - Helps organize Daikatana community events, and helps test Daikatana for Linux.
[HCI]Mara'akate - A long time player, and community contributor. Hosts multiple servers, and helps with creating community patches. Also, does not like MrWizard
Teflon - Helped publish pre-Alpha content, saved pre-released content, saved interesting Daikatana related content. Provided a LOT of information for this wiki.
Mark "hogsy" Sowden - Helps run and develop the OpenKatana project.
Jan "Knightmare" Schmidt - Contributes to the game with his coding and support for the 1.3 community patch.
[S.F.C] Sarge - Creator of various tools for Daikatana.
MrWizard - Quality Assurance Tester - found a glitch/bug that would crash the servers if an improperly typed map was entered in the map command.
Notable Clans
Edit
DI - Damage Inc.
HCL - HydroChlorineInjection
S.F.C - Special French Command
Community Patch
Edit
The Daikatana Community has kept updating the game with fixes and multiplayer support in the 1.3 Patch.
Notable community sites
Edit
Community content is available under
CC-BY-SA
unless otherwise noted.