Mobilty is an important part of Daikatana, and weapon jumping is a big part of that. Whether its trying to get a hard to reach secret, or getting the upper edge in a deathmatch game, weapon jumping will help you.
Weapon Jumping
Edit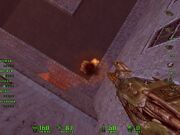 Weapon Jumping is using a weapons knockback or explosive force to propel yourself upwards, and perhaps sideways for some speed. The type of weapon jumping depends on the weapon. Sometimes it involves doing damage to the user, in exchange for mobility. Some weapons do not take health to weapon jump. Using weapon jumps carefully you can find shortcuts to get better weapons in multiplayer, and secrets. Careful weapon jumping can help you save points by not investing in
acro
.
List of weapon jump weapons
Edit
The weapons listed below are practical for doing weapon jumps with. There are other weapons that may give you a boost, but they either do not give enough boost, are inconsistent, or do too much damage to use reliably.